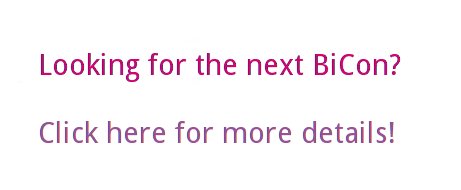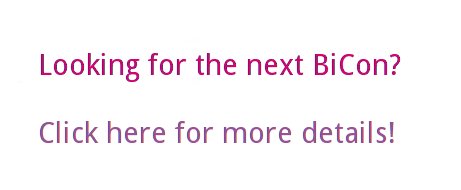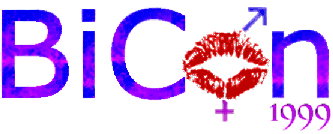 BiCon 1999
The Final Programme





This list is taken from the desk copy of the programme, so it should contain all the extra sessions that were booked, apologies if I've left out anything. Sessions in italics were booked during BiCon.

Friday

Opening Plenary

Session 1
Four welcoming sessions (which people were randomly allocated to).

Session 2
The Klein grid and three types of bisexual
Contact Ads Game
Telling tales: bisexuality in literature and films
Bi's on line
Swimming


Lunch

Session 3
Media panel
SM for beginners
Masturbation
Theory and research
Chatting up women (women only)


Session 4
Bi the book - bi's and libraries
Sexuality Identity Politics
Sign language basics
Safer drug use
The workshop from Hell


Plenary

Saturday

Plenary

Session 5
Sex parties
How not to be famous
Transsexuality and other responses to socially constructed gender roles
Bisexuality and monogamy
Poetry reading

Session 6
Labels and Politics Panel
Non-monogamy for beginners
Mental health: staying sane in an insane world
Bi youth
SM for anyone

Lunch

Session 7
Future of BiCon panel
The creative process
Bi's and marriage
Massage for relaxation
Coming out as bi from gay
Sign language

Session 8
The British Bisexual Federation
5-a-side Jackanory
Is this your last BiCon?
Massage for relaxation (continued from last slot)
Do we need an e-mail helpline
Black bisexuals

Sunday

Plenary

Session 9
Bi Community News
Bi parents and parents of bi's
Body images
Transsexuality continuation

Session 10
Local group panel
Fun and games
Shamanism, priestesshood, dominance and submission
Ear acupuncture

Lunch: photo session and art auction

Final Plenary

Other impromptu organised included a guided walk round the Old Town, walks up Arthur's Seat (at dawn and at 'a more civilised hour'), continuations of the masturbation and Bi the book sessions, and various meals, shopping trips, parties and picnics which I found it impossible to keep track of.

Mail us at BiCon 98 email address removed

Last modified: 10th December 1999





BICON® is a registered trade mark of BiCon Continuity Ltd, and is used with permission.





BICON® is a registered trade mark of BiCon Continuity Ltd, and is used with permission.