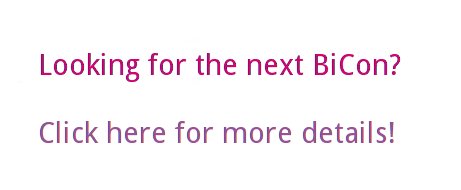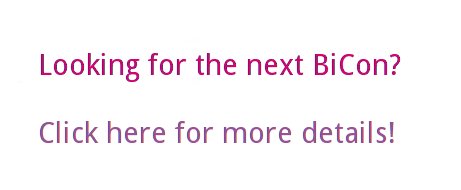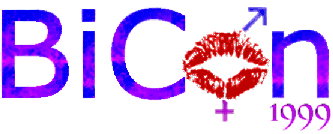 BiCon 1999
The 17th UK National Bisexual Convention

| | |
| --- | --- |
| What? | A three day friendly gathering for bisexuals filled with discussions, speakers, activism, videos, stalls, art exhibitions, parties, entertainment, outings, support and making friends... |
| Who? | All bisexuals and their friends are welcome. |
| Where? | Edinburgh University's Pollock Halls, in the centre of Edinburgh. |
| When? | Friday 16th to Sunday 18th July 1999, with early registration on Thursday evening. |
| Why? | For fun, for support, to catch up with people we know and meet people we want to know better. |
There is almost no formal business to attend to at BiCon, and you can choose which sessions you want to attend or whether you'd rather go sightseeing or sit in the bar. In the past sessions have included massage, activism, story telling, non-monogamy, coming out, spirituality, feminism, and games. BiCon prides itself on being welcoming, and there are always special sessions for newcomers, so don't be shy if you don't know anyone - come anyway!
The Venue
Pollock Halls is in the heart of Edinburgh, adjoining the open spaces of Holyrood Park, the largest City park in Europe and next to the Commonwealth Pool, and ten minutes from the City Centre. There is a bar serving drinks, coffee, and snacks which will be open in the day and evening, and a well stocked shop on site. Public spaces in Pollock Halls are designated non-smoking.
On site accommodation is of a very high standard, all rooms have tea and coffee making facilities and there are plenty of shared bathrooms and kitchenettes.
Accommodation
Accommodation is available for BiCon at £28 a night for a single room with full Scottish breakfast on site. Vegetarian breakfasts are available. There is also a list of local Bed and Breakfast and Hostel accommodation, with prices starting at £10 a night.
We recommend that attendees book three nights accommodation, as the convention will include a full morning on Friday. This is because we plan on finishing early enough on Sunday for most people to catch the last train home.
Disabled Access
The majority of Pollock Halls is fully wheelchair accessible and there is an induction loop in the main hall. Wheelchair accessible and ground floor accommodation can be booked on site. There is one meeting room which is accessible only by a spiral stair. We will do our best to rearrange workshops in this room to suit attendees with access difficulties. If you are bringing someone as a full time carer they can attend the conference free.
Prices
BiCon aims to be accessible to people on low incomes, which is why registration fees are on a sliding scale. Please pick the price for your income and fill out how much you are paying on the registration form. If you are claiming the unwaged rate please enclose photocopied proof such as a signing on card, cover of benefit book, student card etc.
We very much prefer if you are able to book before May 1st 1999, and prices will go up by approximately 25% after that date.
| Income | Before May 1st | After May 1st |
| --- | --- | --- |
| Unwaged (with proof, see above) | £17 | £20 |
| Under 12 000 p.a. | £22 | £27 |
| 12 000 to 17 000 p.a. | £28 | £35 |
| 17 000 to 22 000 p.a. | £33 | £41 |
| 22 000 to 27 000 p.a. | £38 | £47 |
| Over 27 000 p.a. | £43 | £54 |
Daily Registration is available at half the three day rate.
When you have decided which registration rate you pay, just fill in this form and send it with payment and an SAE to the address on the back page. We will send you confirmation of your booking together with directions to the venue.
If you have offered to volunteer or run a workshop you will be contacted separately.
Hardship Fund
Since we have a financial surplus from previous BiCons, this year's BiCon will be making some money available for a hardship fund to help low waged and unwaged people to attend. If you want to be considered for the hardship fund please tick the box on the form and enclose some details indicating why you have applied. Note you need not send a registration fee now if you are doing this, and we will not cash any cheques which arrive with hardship fund applications until we have replied to you.
On to the booking form...

BiCon 1999 email address removed
Last modified: 27th June 1999
BICON® is a registered trade mark of BiCon Continuity Ltd, and is used with permission.
BICON® is a registered trade mark of BiCon Continuity Ltd, and is used with permission.